Children's holiday programme at the Pig Museum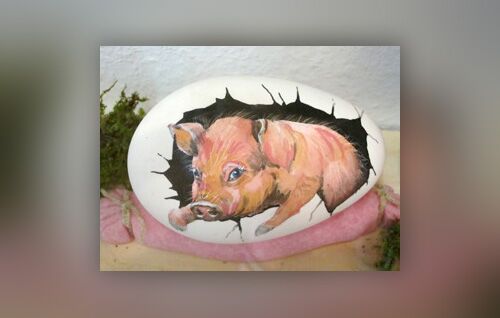 Holiday time is Museum time
It's the school holidays, now what? Many parents seem to face challenge after challenge during the summer holidays. Its the holidays and the children want to do something, but a fifth visit to the swimming pool just doesn't seem exciting anymore? The Stuttgart Pig Museum is a fantastic opportunity to break out of your holiday rut. You can look forward to a great family day out at the Stuttgart Pig Museum.
With an optional 60 minute guided tour at a price of € 60 plus entry.
Children's birthday parties at the Stuttgart Pig Museum
Make your birthday "sow good" by celebrating at the Pig Museum!
There's plenty to marvel at in our Pig Museum. From little piggy Babe to a tram with a pig's head or even our piggy dinosaurs. Big, funny, colourful piglets are waiting for you.
Children are more than welcome to visit the Museum with friends on their birthday, and learn something about our Museum and pigs by taking our quiz. Then our little guests can say "cheers" over a glass of "Miss Piggy" (our alcohol-free cocktail), and fill their bellies with our "Pumba Schnitzel with Spätzle".
The guides tour costs € 60
plus entry for children/adults, cost (with tour) per person
Adults: € 4.50
Students: € 4.00
School children: € 2.50
Nursey groups (up to 6 years old): € 1.50
Make an appointment with us so we can offer advice. (Decorations and choice of food etc. available on request)