Café and Restaurant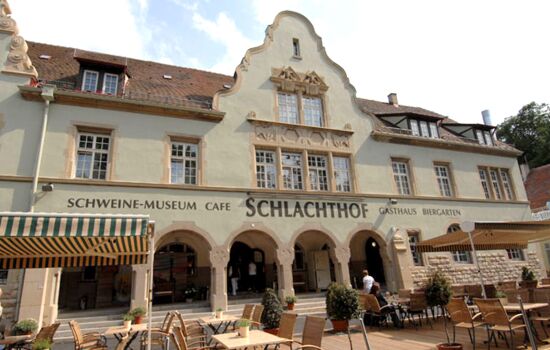 The Pig Museum offers unique food and drink options unlike any other museum in Stuttgart with its Café and Schlachthof Restaurant. Michael Wilhelmer, Erika Wilhemler's son and successful restaurateur delights Museum guests with delicacies from the German kitchen.
He provides a wholesome Restaurant that's open daily to everyone, not just Museum guests. We have a daily changing lunch special including delicious dishes from the region, an exquisite selection of homemade cakes for the afternoon, and a fantastic menu with delicious meals for both small and large appetites.
Special atmosphere
Michael Wilhelmer places particular importance on ingredients. Which is why we mainly use products from the region. Our ingredients come from businesses we've checked ourselves, whose products have been awarded the Baden-Württemberg quality label, either in whole or in part.
The special atmosphere of the art nouveau building and the numerous exhibits and sculptures from the Pig Museum, which are also placed throughout the guest rooms and Museum eating areas, offer the Schlachthof Restaurant a certain flair.
Schlachthof Beer Garden
In the summer months, the spacious outdoor areas are a particularly inviting spot to forget the world for a while. The passageway to the idyllic and quiet Schlachthof Beer Garden is situated right next to the Schlachthof building. It's not just beer fresh from the tap on offer here, we also have a range of hearty snacks and classic Beer Garden treats.
Set next to the Beer Garden and directly behind the historical administrative building you can find the Bierlauben, the Beer Garden's dining area. Treat yourself to the Schlachthof's delicacies in a comfortable, relaxed atmosphere in our open air Beer Garden. Our Beer Garden is open from April to October, Monday - Friday from 15.00 and Saturday and Sunday from 11.00.
A family, a tradition, and a shared passion for hosting.
Erika Wilhelmer is the Museum's founder and collector. As an experienced innkeeper and passionate host with multiple successful restaurants in Stuttgart, she is keen to not only welcome guests into the Pig Museum, but also to treat them with culinary delights.