An overview of the Museum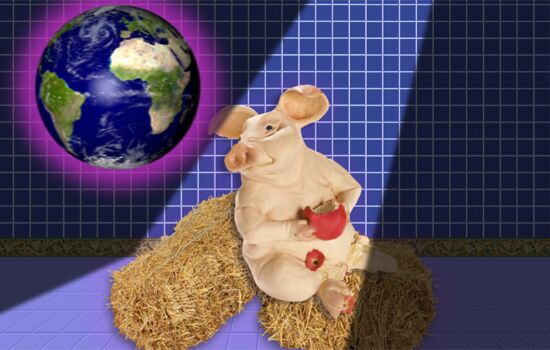 Lucky pigs, piggy banks, and cuddly pig toys abound in our Pig Museum - to view, touch, and coo over - there's something for everyone here. A creature with a curly tail can be found sitting, laying, lazing around or resting atop a throne in every corner of the Museum. Take a look at the Pig Museum Gallery to get a first impression.
Spread across 27 themed rooms...
... and two rooms for special exhibitions, pigs of all kinds are waiting to tell you their story. From zoology to pigs in art and culture to pigs shrouded in legend in mythology and symbolism - in this globally unique Museum, we present the vast diversity of the affectionate pig in all of its most brightest, craziest colours and forms. Whether in plush, wooden, ceramic or cork form, whether on a cup, painting, tie or briefcase, whether it's been painted, laminated, made into pottery or embossed: We've got it all!
Long-term display and changing special exhibitions
From lucky pigs to cuddly pigs, from kitsch to everyday items to antiquities and valuable unique pieces, the diverse themed rooms offer you the opportunity to come face to face with the meaning of pigs, various pig breeds and artistic interpretations of pigs. The Pig Museum has frequent special exhibitions on various themes where you'll always have something to learn and something to see. A trip to the Pig Museum Stuttgart is worth it for the whole family.
If you still don't have a soft spot for pigs, you're sure to discover a passion for them here.
Facts and figures
New Year's Eve 1988/1989
Founder of the collection and lucky pig Museum in Bad Wimpfen is Erika Wilhelmer, Stuttgart restaurateur and passionate collector.
1992
Entry into the Guinness Book of World Records "Largest Pig Museum in the World" – with around 25,000 exhibits at the time.
January to May 2010
Renovation of the former administrative building in the old Stuttgarter Schlachthof, Schlachthofstraße 2, Stuttgart-Ost. The pig exhibition moves to a new home.
2010
Opening of the new Pig Museum in Stuttgart with a little over 41,500 pig exhibits, presented over 600 square metres in 25 themed rooms. Additional room for changing and special exhibitions in the "barn" in the roof area of the museum.
Architecture
At the time, the entire Schlachthof area was made up of over 60 buildings and halls over an area of ​​12 hectares. Business closed in 1992 and the majority of the buildings were torn down. Now, the 100-year-old former Schlachthof art nouveau building is home to the largest pig museum in the world, as well as a restaurant with a beautiful terrace and beer garden.
The administrative building is under a preservation order for historic buildings and monuments. It, the gatehouse, the outbuildings, and some other structures have bared witness to an entire century of eventful history.
History
Stuttgarter Schlachthof over the years
1909
Completion of Stuttgart cattle yard and Schlachthof as a municipal facility on the Gewann Schlüsselwiesen in Gaisburg. Architect: Albert Pantle (1859-1921).
Costs: 7.1 million Marks.
1939 – 1945 Extensive destruction of the area during the Second World War.
1949 Reconstruction.
1988 Privatisation of the Schlachthof, sold to Stuttgarter Schlachthof GmbH.
Symbolic cost: One Mark.
1992 Private operator goes bankrupt. Area taken over by the city.
1993 Schlachthof abandoned.
1994 – 2003 Master plan implemented to renovate the area.
Size of the area: 43.5 hectares.
2009 The only remaining, protected buildings sold to Wilhelmer Gastronomie GbmH (former administrative building, former gatehouse and police building). The Pig Museum and diverse food and drink services are built over approximately 1,000 square meters of usable outdoor space, which will make East Stuttgart more attractive.
2010 Grand opening of the Pig Museum and Schlachthof restaurants on the 1st of May, 2010.
A brief insight...
You can get a more detailed insight by taking our virtual tour